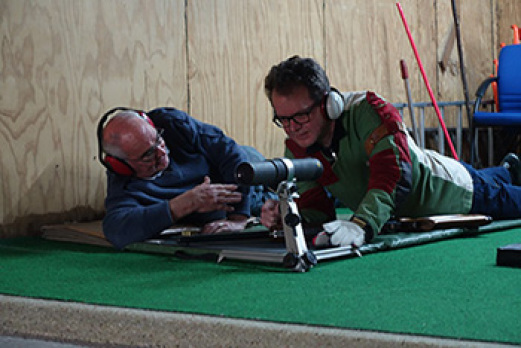 — July 2022 Update —
Alton Rifle Club will not be taking membership applications from new shooters until further notice as we are at capacity for training. Applications from existing shooters are still welcome. We will be reopening membership for novice shooters in the Autumn
———————————
Do I need previous shooting experience?
Not at all! We welcome everyone! Men and Women, old and young, new and existing shooters are all welcome.
However, juniors aged 14-16 must be accompanied by an adult when attending.
The Club can provide all the equipment you need to start shooting.
How do I arrange to come along?
Sadly, you cannot just turn up. We have to screen you with the Police before we can invite you to the range to have a look around, meet other members and see how the club operates and discuss the options open to you.
If you are interested in coming along please download and complete the Trial Membership form and email it back to us. When doing so please tell us about your interest in shooting and any previous experience you may have had. Please also feel free to ask any questions you may have about the club or about shooting in general.
Trial Membership Application Form
This downloads as a PDF which you will need to print off, complete and then scan back to us (we hope soon to make this into a form you can complete online)
Trial Membership Application Form
Trial Membership: How much does it cost and what does it include?
Trial Membership costs just £20; this comprises a 2-hour Induction session (with a maximum of 4 trialists). The session will start with a short briefing covering safety and other matters. It includes overall supervision by a Range Control Officer and one-to-one instruction and assistance while you shoot. You will be given an opportunity to try both prone shooting (using a front tripod initially) and light sporting shooting using club rifles and equipment and complimentary ammunition.  
It then includes up to 2 further visits on club nights when you will have a further opportunity to try either or both disciplines and meet other members. After this we will ask you to sign up for probationary membership if you wish to continue. If you use a lot of ammunition on these 2 visits we may ask for a further contribution but modest quantities are again included in the Trial Membership costs.
Firearms certificate (FAC) holders are welcome to bring their own rifle (and ammunition if you wish) along on the second visit – the charge will be the same. Please ensure that you bring your firearms certificate with you on your introductory visit.
New Shooters have to serve a 6-month Probation period before they can become Full Members. Once you become a Full Member, you may apply to the local Police for a Firearms Licence so you can buy your own rifle.
Membership Fees:       2022-23 fees 
Juniors: £50.00 per year, aged 14-17 (with adult supervision);
Seniors: £100.00 per year. Aged 18 and over.
Our financial year runs 1st April to the following 31st March, if you join before 31st October a full year's subscription is payable. After that we ask for half the above amounts, with full year renewal then due from the following 1st April.