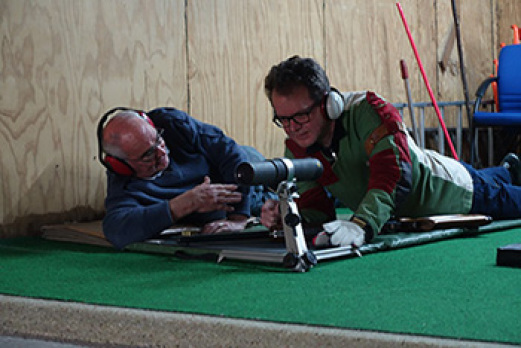 There are legal constraints on who can be on an active shooting range and we have to ensure that our insurance policy covers everyone present.
Do I need previous shooting experience?
No you do not. We welcome male, female, adult or juniors and new and existing shooters to come along to the club.
Juniors aged 14-16 must be accompanied by an adult when attending.
The Club will provide all the equipment you need to start shooting.
How do I arrange to come along?
Sadly you cannot just turn up.
Following the rules laid out by the Fi
Firearms Act, we need a membership form fully filled out from you first.
We have to provide your details to the authorities and to our insurance company at least 48 hrs in advance of your complimentary Introduction session.
Once we have done that we will invite you to the range where you can have a look around and discuss with us how the club operates and the options open to you.

If all is well, then you can take up a Trial membership and start shooting with one of our Instructors, who will ensure you start your shooting safely.
If you are interested in coming along please download and complete the Visitor form and email it back to us. On the form please give us information about your location, your interest in shooting and any previous experience you may have had. Please feel free to ask any questions you may have about the club or about shooting in general to:
enquiries@altonrifleclub.com – we will do our best to help!
Membership Appliction Form
How much does it cost?
The fee for a 30 day trial membership is £5 payable in cash on the day and includes:
A short briefing covering safety and other matters;
Overall supervision by Range Officer;
The use of a club rifle;
One-to-one instruction and assistance while you shoot;
20 rounds of .22 ammunition;
30 day trial membership.
Any additional ammunition used during your trial period will need to be paid for (it's not very expensive) and left with us for safe keeping.
Firearms certificate Holders are welcome to bring their own rifle (and ammunition if you wish) along on the second visit – the charge will be the same. Please ensure that you bring your firearms certificate with you on your introductory visit.
New Shooters have to serve a 6 month Probation period before they can become Full Members. Once you become a Full Member, you may apply for a Firearms Licence to own a rifle.
Membership Fees:       2021-22 fees 
Juniors: £40.00 per year, 14-17 (with adult supervision);
Seniors: £80.00 per year. 18 and over.